Extraction and Determination of Curcuminoids in Turmeric Capsules
Keywords:
turmeric, turmeric capsules, curcuminoid, spectroscopic techniques
Abstract
The purpose of this research was to study the curcuminoid content from crude extracts and determination of curcuminoids from turmeric capsules.Chemical composition of turmeric contains curcuminoids, it is a yellow substance extracted from turmeric rhizomes. Determination of curcuminoids by spectroscopic techniques. Crude extract from methanol, curcuminoid content was the highest at 62.51%, followed by acetone crude extract at 43.56% and dichloromethane at 39.24%, respectively whereas the study of curcuminoids from 3 brands of turmeric capsules found that Langkasuka brand, the amount of curcuminoids was the highest at 11.50%, followed by Abhaibhubejhr brand, 10.39%, and Ouay-An-Osoth brand, 9.71 %, respectively.
References
กระทรวงสาธารณสุข ตำรามาตรฐานยาสมุนไพร, (2017). การวิเคราะห์ เคอร์คูมิน ด้วยวิธีการวัดค่าการดูดกลืนแสง ด้วยเครื่อง UV-visible Spectrophotometer, 136, 135-145.
Agarwal, BB., & Sung, B. (2009). Pharmacological basis for the role of curcumin in chronic diseases: an age-old spice with modern targets. Trends in Pharmacological Sciences, 30, 85-94.
Kadam, P. V., Bhingare, C. L., Nikam, R. Y., & Pawar, S. A. (2013). Development and validation of UV Spectrophotometric method for the estimation of Curcumin in cream formulation. Pharmaceutical Methods, 4(2), 43–45.
Kulkarni, S.J., Maske, K.N., Budre M.P., & Mahajan, R.P. (2017). Extraction and purification of curcuminoids from Turmeric (Curcuma longa L.). International Journal of Pharmacology and Pharmaceutical Technology, 1(2), 81-84.
Leela, NK., Tava A., Shafi PM., John HP., & Chempakam B. (2002). Chemical composition of essential oils turmeric (Curcuma longa L.). Acta Pharmaceutica, 52, 137-141.
Li, S., Yuan, W., Deng, G., Wang, P., Yang P., & Aggarwal B. B. (2011). Chemical Composition and Product Quality Control of Turmeric (Curcuma longa L.). Pharmaceutical Crops, 2, 28-54.
Nabati, M., Mahkam, M., & Heidari, H. (2014). Isolation and characterization of curcumin from powdered rhizomes of turmeric plant marketed in Maragheh city of Iran with soxhlet technique. Iranian Chemical Communication, 2, 236-243.
Revathy, S., Elumalai, S., Benny, M., & Antony, B. (2011). Isolation, Purification and Identification of Curcuminoids from Turmeric (Curcuma longa L.) by Column Chromatography Journal of Experimental Sciences, 2(7), 21-25.
Sanphui P., Goud NR., Khandavilli UBR., Bhanoth S., & Nangia A. (2011). New polymorphs of curcumin. Chemical Communications, 47, 5013-5015.
Tewtrakul, S., Tansakul, P., Daengrot, C., Ponglimanont, C., & Karalai, C. (2010). Anti-inflammatory principles from Heritiera littoralis bark. Phytomedicine, 17, 851-855.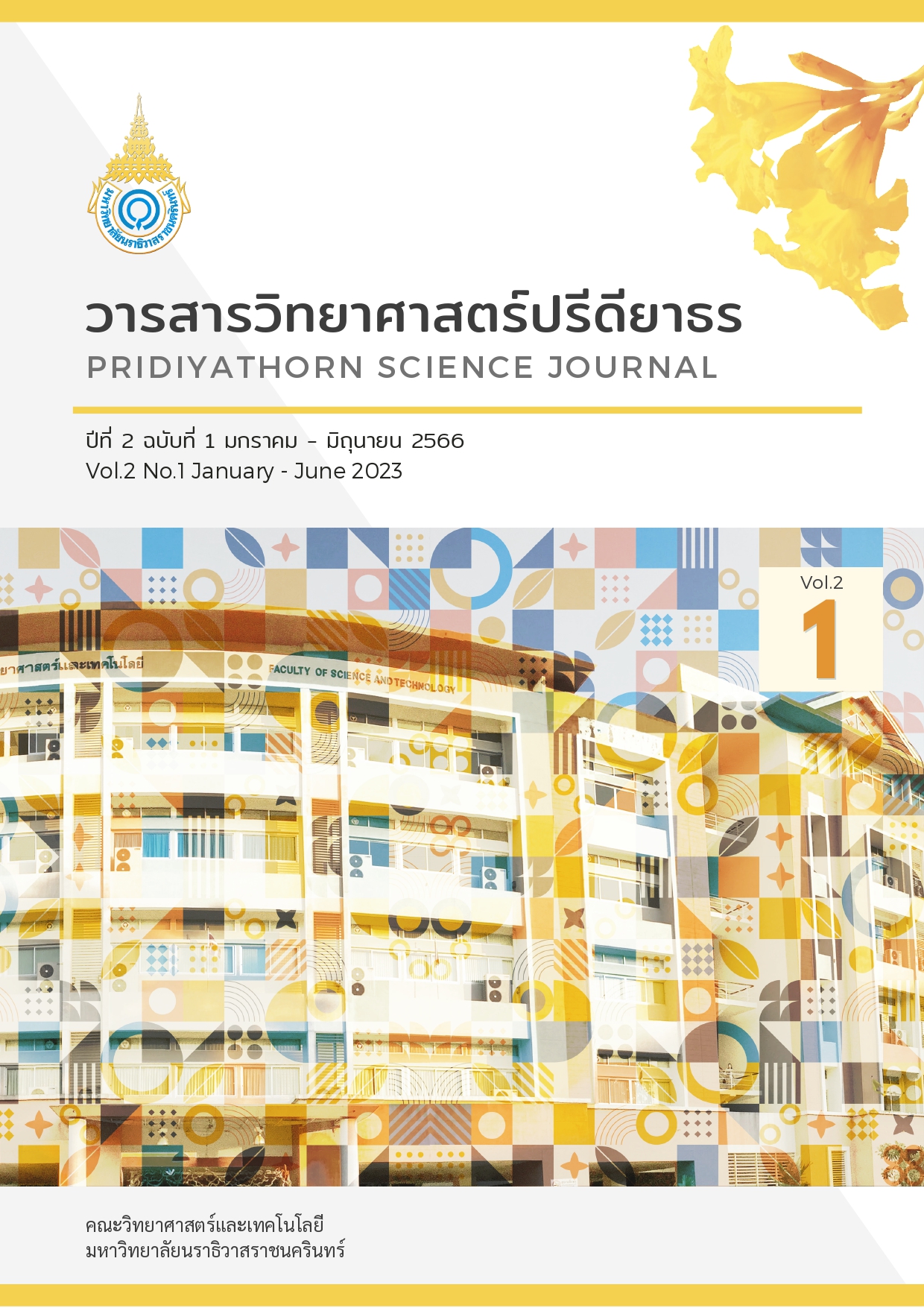 Downloads
How to Cite
Daengrot, C., Maseng, F., Samoh, W., Duangsook, S., Kareng, S., Doloh, A., & Phainuphong, P. (2023). Extraction and Determination of Curcuminoids in Turmeric Capsules. Pridiyathorn Science Journal, 2(1), 1–8. Retrieved from https://li04.tci-thaijo.org/index.php/psj/article/view/1151
License
This work is licensed under a Creative Commons Attribution-NonCommercial-NoDerivatives 4.0 International License.
ข้อความลิขสิทธิ์ เติมด้วยค่ะ